DESTINATIONS & LOGISTICS
Leadership Retreats/Team Building Events /Team Outings
The success of corporate outings depends on the objective of the outing and choosing the most appropriate venue to achieve those objectives. Outbound program management requires meticulous planning, attention to detail, understanding of the objective and the list goes on. The location makes a huge difference in the way program happens. In fact, venues can be the 'making' or the 'breaking' point for a successful event. In order for the event to happen successfully, we work closely with leading hotels and venues across Northern & Western India, and few locations down South to provide corporate teambuilding and conference facilities. We source excellent hotels and venues for leadership and team building programs within easy reach of these locations. We can cater for your end-end management needs to include travel by road/rail/air and hotels/venues/resorts for stay. Our travel & tour partner MICE pro Travel Solutions would be more than happy to get you a price quote from them to host your event.
What to Look For While Selecting a Venue
Turn around distance – least travel time
Feel at home comfort, Personal touch, Hygiene & sanitation, Healthy food, Recreation facilities
Facilitate in achieving your objective
Adequate open space to conduct activities
Safety and security
Medical Aid
How We Process Your Requirements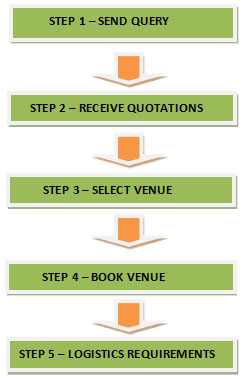 NOTE – Processing is an interactive activity and our representatives continuously engage with the client till closure of each requirement.
Outbound Venues
We predominantly cover Northern & Western India to include Uttrakhand, Himachal Pradesh, Ladakh, Rajasthan, Goa and are also happy to discuss your requirements elsewhere in India. Below is a list of locations which clients commonly choose to run their events.