Belbin's Team Roles
Team Dynamics - Using Belbin Theory
Situation 1
Take a bunch of random individuals without giving it any thought and expect them to work productively together.
Situation 2
Select and train your team taking into account their key skills and getting them to work according to these key skills in order to maximise their potential and thereby influencing the team's overall productivity.
Benefit
The benefit of utilising and understanding Belbin Team Roles is that not only do we learn more about ourselves, but also a lot about our work colleagues and how to get the best out of them to reach our goals.
Background
TThe theory was developed at the Henley Management Centre by analysing what made teams successful during a series of management games. During this analysis, nine team roles were identified. We are a combination of all nine roles, however, generally two or three will be more prominent.
The Nine Belbin Team Roles - These nine roles can be broken down into three categories as follows: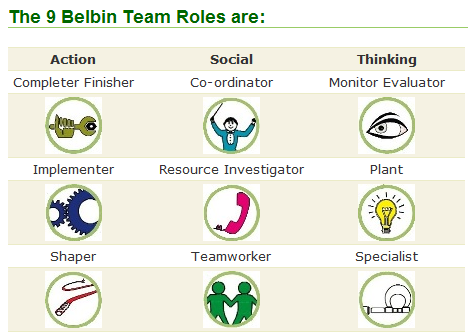 Thinking Team Roles
Plant
Creative, imaginative, unorthodox. Solves difficult problems. However tends to ignore incidentals and be too immersed to communicate effectively.
Monitor Evaluator
Even tempered, strategic and discerning. Sees all the options and judges accurately. However can lack drive and lack inspired leadership qualities.
Specialist
Single minded self starter. Dedicated and provides specialist knowledge. The rarer the supplier of this knowledge, said Belbin, the more dedicated the specialist. However, can be stuck in their niche with little interference.
Action Team Roles
Shaper
Challenging, dynamic, thrives under pressure. Jumps hurdles using determination and courage. However can be easily provoked and ignorant of the feelings of others.
Implementer
Disciplined, reliable, conservative and efficient. Acts on ideas. However can be inflexible and slow to see new opportunities.
Completer-Finisher
Conscientious and anxious to get the job done. An eye for detail, good at searching out the errors. Finishes and delivers on time however can be a worrier and reluctant to delegate.
Social  Team Roles
Resource Investigator
Extrovert, enthusiastic, communicative. Explores opportunities and networks with others. However can be over optimistic and loses interest after initial enthusiasm has waned.
Co-ordinator
Belbin's Co-ordinator is a mature, confident and a natural chairperson. Clarifies goals, promotes decision-making and delegates effectively. However can be seen as manipulative and controlling. Can over delegate by off loading personal work.
Team Worker
Co-operative, relationship focused, sensitive and diplomatic. Belbin described the Team Worker as a good listener who builds relationships and who dislikes confrontation. However can be indecisive in a crisis.